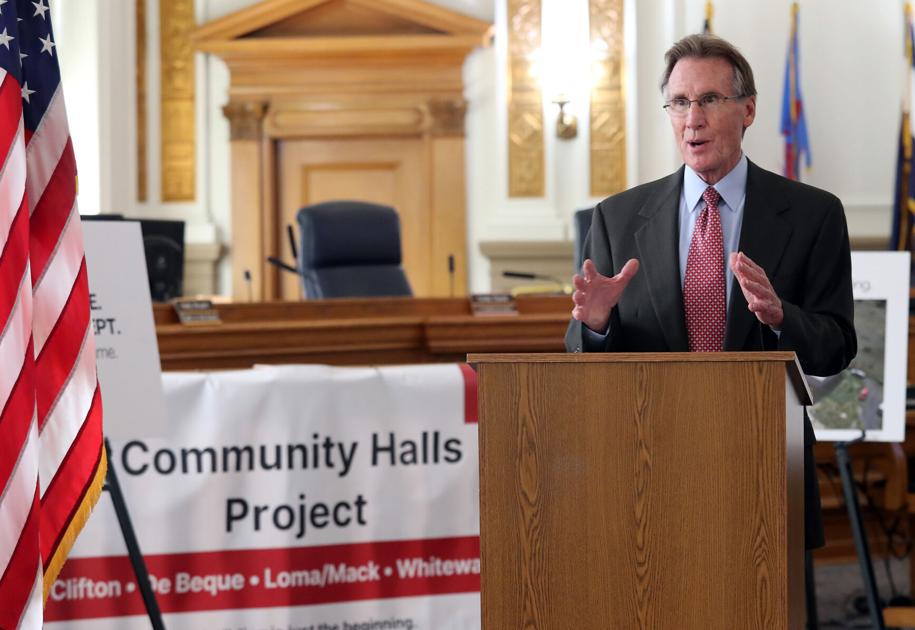 [ad_1]
Promises made, promises broken … for 40 years.
This is what happened to voters in Mesa County when they approved a sales tax rate in 1981.
In the years that followed, the revenue from this tax was spent on many things for which it was intended, except for one: building community halls in parts of the county.
This eventually happened in Grand Mesa and Gateway, but the other promised community halls faded into the collective memory of the community.
After years of working behind the scenes to iron out some legal issues, and because the county sees windfall profits in other income, the three-member County Commissioners Council is ready to deliver on that four-decade-old promise. .
"In some circumstances, the promise has not been kept," said Commissioner Scott McInnis, who has worked for six years to deliver on the promise to build these venues. "In reality, due to the circumstances, we were not able to accomplish this mission. "
A TIME SAY
May 2, 1982, a day known locally as Black Sunday.
It was the day ExxonMobil announced the closure of its major oil shale settlement project, instantly leaving more than 2,000 people out of work and the county's economy was devastated for years.
A year ago, voters had great confidence in the local economy. That's why they approved a 2% sales tax to help fund needed projects. That's the same rate the county has now, not including the special 0.37% public safety sales tax approved by voters in 2017.
The 1981 poll question creating this new county tax was to be used for things such as water and sewer expansion, improved roads and bridges, and more recreational facilities, including centers community.
"It was surprising for me too to think that something that was voted on by voters 40 years ago (has not been done)," said Commissioner Janet Rowland. "But to be fair, it was 81, Black Sunday 82, and 83 they (the county commissioners) were borrowing money just to pay their pay. Community halls weren't on their minds at the time.
It made everyone forget that promise, but not anymore.
The current commission announced Tuesday that it plans to build four new community centers – in Clifton, De Beque, Loma / Mack and Whitewater – but was quick to clarify that it was not going to dictate what each included.
Each should be of a similar design and should be modeled after the one that was built in the town of Mesa, which hosts a variety of things from town halls to classes of all kinds to sporting events.
This particular center also has a community garden, health clinic, small library, commercial kitchen, and space for job fairs, leisure gatherings, shows, private weddings and celebrations, for no. to name a few.
The new centers will not necessarily include all of this, although they may. It all depends on what residents of those four zones want, at least as long as it aligns with budget cuts, the commissioners said.
A MEETING PLACE
"It's not a recreation center," McInnis said. "It's a gathering place. If you want to get a good idea of ​​what we think it should look like, the Mesa Community Hall is a good example.
County administrator Pete Baier said if these communities had something else on their minds, it could also happen. Depending on what they want, however, they should come with additional funding, such as grants or donations.
The costs of building each new center are unclear, in part because of differences in land costs or whether the county is using land it already owns. Overall, however, the entire project is expected to cost around $ 8 million.
That money is to come from the county's existing resources, although some capital construction funds it already has are expected to be released when the county receives its share of funds – roughly $ 30 million – from the US bailout. The money from this COVID stimulus package approved by Congress last spring is very prescriptive about how it can be used, but there are already specific projects underway that qualify for it, Baier said.
The county has already started the process of designing and locating the first two centers, although it could be next spring before the land is cleared. These first venues will be at Clifton and De Beque.
After that, the county plans to begin the same process for the construction of the Loma / Mack and Whitewater facilities, Baier said.
[ad_2]