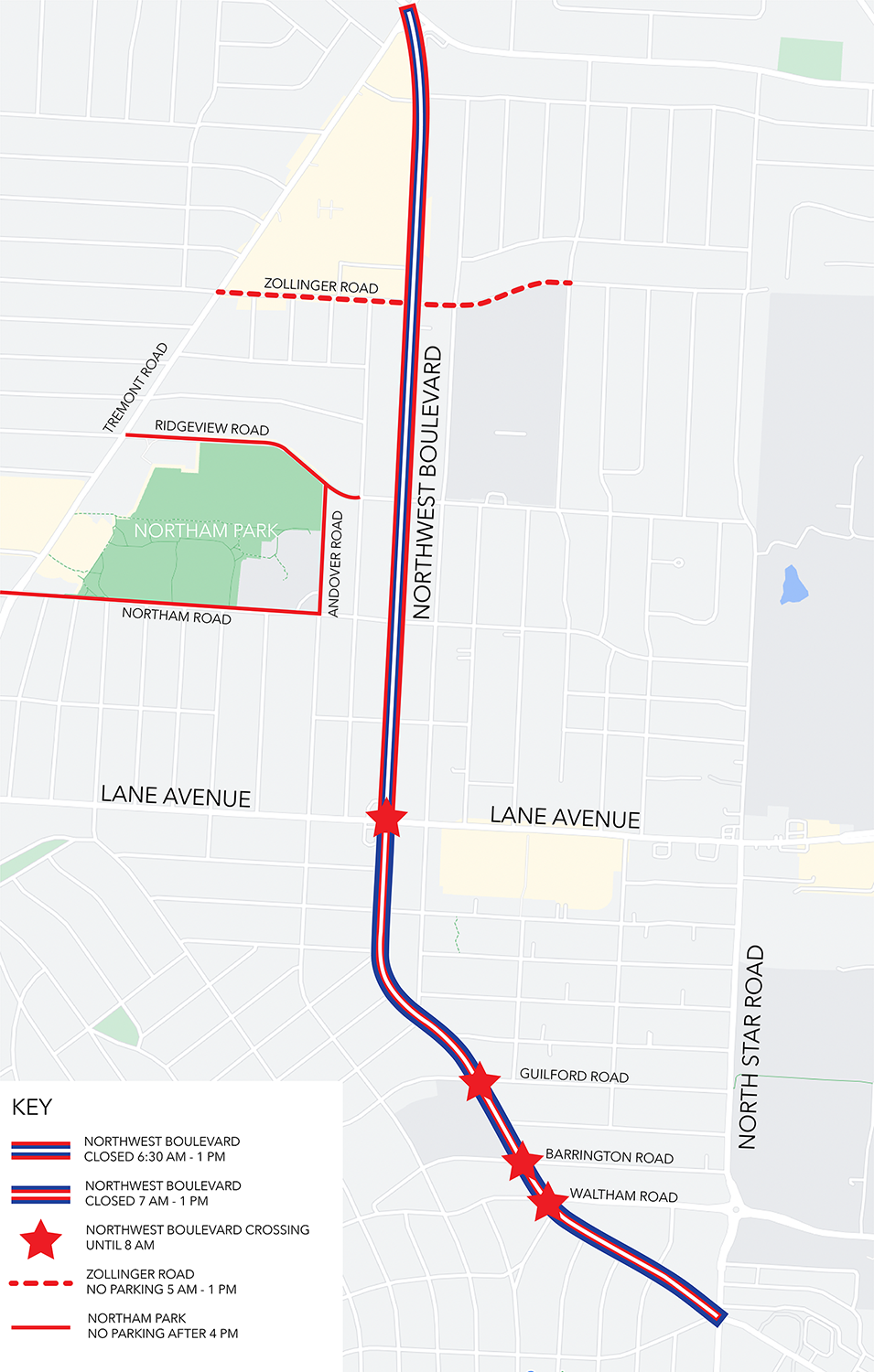 It's no secret that Upper Arlington knows how to throw an amazing Independence Day celebration, thanks to the dedication and hard work of the all-volunteer UA Civic Association (UACA). With this year's theme – Stars Stripes and Trailblazers and featuring US Army Veteran Mr. John Bergmann as the 2022 Parade Grand Marshal (you can find Mr. Bergmann's fascinating story on the trail of AU history) – the 4th of July traditions of the community should not be missed. Read on for an overview of the day's activities, as well as several updates on logistics and programming.
Parade
The parade begins at 9 a.m., heading south on Northwest Boulevard from Kingsdale to North Star Road.
NEW – Inclusive Zone
UACA has added an area in front of Holy Trinity Church towards the end of the parade route that is available for community members with mobility and sensory challenges. The space will include a covered tent and parking access for people with reduced mobility. This space will also provide a quieter version of the parade, with participants encouraged to reduce the volume of their music and other noises by at least 50% as they pass. This inclusive zone is led by the Red Oak Family Foundation. [//redoakfamily.org/]
NEW – Traffic and security restrictions for the parade
The Police Division is implementing new traffic and parade route safety adjustments, placing fixed barricades or municipal vehicles on streets that intersect Northwest Boulevard. Therefore, local traffic will not be able to cross or use the northwest on the following schedule:
• 6:30 a.m. to 7 a.m. – all streets between Zollinger Road and Lane Avenue will be closed to Northwest Boulevard.
• 7:00 a.m. to 7:30 a.m. – all streets between Lane Avenue and North Star Road will be closed to Northwest Boulevard.
• Lane Avenue will remain open to traffic until 8:30 am.
• All streets are expected to reopen to traffic around 1:00 p.m.
party in the park
Doors open for Party in the Park at 5 p.m. in Northam Park, featuring The Conspiracy Band and culminating with an exciting fireworks display around 10 p.m.
NEW – Changes to the layout of the park (see map)
Following recent stormwater upgrades in Northam Park, some of the grass has been reseeded and is currently fenced off while the new grass can establish. As a result, the Party in the Park layout has been adjusted, moving the reserved table area closer to the Tremont Library. In order to provide enough space for everyone who usually attends the party in the park and the fireworks, part of the parking lot at Tremont Road will be reserved for the general public, in addition to the southeast corner of the park (at side of St Agatha). Our apologies in advance for any inconvenience this may cause.
Additionally, another portion of the park is fenced off for a gas line replacement project by Columbia Gas. This area is at the southern end of the park, adjacent to Northam Road and the intersection of Wexford Road.
NEW – Restrictions on golf carts
A warning that golf carts will not be permitted on Northam Road between Tremont Road and Andover Road between 4 p.m. and 11 p.m., except for public safety and authorized permits (UACA members working on the 'event). General public parking for golf carts will be available on Dorset Road between Redding and Tremont Road. Residents can use the south entrance of the UA Library as a drop-off location.
Gratitude
Planning and organizing events like these is no small feat and it all happens through the volunteer efforts of the UA Civic Association. This year's coordinators are:
• Event Chairs Sam and Sandi Porter
• Parade Chairs Michelle and Steve Gdovin
• Susie and George Pattison floating chairs
• Chairs of Justices Katie and Andrew Widing
• Fireworks Coordinator Bill Hall
• Nichole Montgomery, President of UACA
When these "4th of July" teams first assume the role of Judge Chairs, they embark on a four-year cycle of increasing responsibilities, ending as Chairs for the whole day. UA is fortunate to have residents willing to undertake the planning and logistics necessary to enrich our community in this way.
We also have City employees who are essential in the day's events:
• Police Division—security, traffic
• Fire Division: security, fireworks, first aid
• Parks and Forests: Assistance with event setup and troubleshooting
• Public works – placement of barricades, banners and signage
• Electric assistance: power supply and lighting
• Community Affairs – event liaison
As you enjoy what is sure to be a fantastic celebration, please thank our City employees and UACA volunteers.