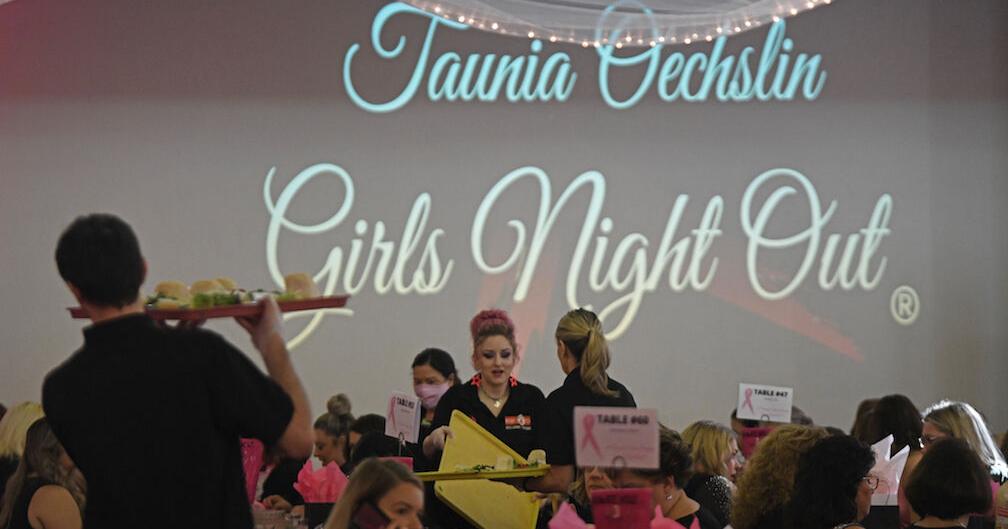 In a late 2008 interview with The Tribune-Democrat, Tania Oechslin said she spoke publicly about her own battle with breast cancer to help others understand the risks, prevention steps, and treatment options if you learn you have the disease.
"If I can bring one more person in for treatment and care, it's worth it," she said – just months before breast cancer took her life.
This mission statement prompted Oechslin and her friends to develop the "Taunia Oechslin Girls Night Out" program in 2006 to support the Joyce Murtha Breast Care Center in Windber.
Through its annual event – ​​which is always sold out – Girls Night Out has raised $1.15 million for the Pink Ribbon Care Fund to help the center provide free mammograms, genetic testing and other services to uninsured women. and underinsured, as our Kelly Urban reports in our October article. 1 special section dedicated to breast cancer awareness.
The special report is filled with tips and inspiring stories to help spread this awareness message.
The same goal of convincing just one more person to get screened or treated drives our efforts each year to raise awareness about breast cancer and celebrate those who have fought the disease and the many medical professionals, scientists and advocates who work every day to reduce the impact of cancer and eventually find a cure.
Technology has advanced dramatically in the nearly 14 years that we've been producing special content, with support from the region's business community, every October.
Doctors and researchers are now studying and treating cancer at the molecular level, while doctors are using 3D mammography for better diagnoses and genetic testing to determine predisposition to cancer.
Care throughout the process includes advice on diet and prosthetic enhancement, while nurse advocates provide support every step of the way – from diagnosis to treatment and recovery.
The area is home to many top-notch medical centers where professionals use the latest equipment and techniques to save lives – including Conemaugh Health System and Conemaugh Cancer Center, Indiana Regional Medical Center, facilities of the UPMC Health System throughout the region and UPMC Hillman Cancer Center, and Joyce Murtha Breast Care Center and Chan Soon-Shiong Medical Center in Windber.
And our region is home to one of the world's top medical science centers – the Chan Soon-Shiong Institute of Molecular Medicine, formerly the Windber Research Institute – which has been seeking answers to cancer prevention and treatment since 2000 with the largest breast tissue bank in the world.
Their work saves lives every year, every day.
The website cancerdusein.org reports that the overall breast cancer death rate decreased by 1% per year from 2013 to 2018.
Yet, about 1 in 8 (13%) American women will develop invasive breast cancer in her lifetime.
The Susan G. Komen Foundation estimates that there will be 300,000 new cases of invasive breast cancer in the United States in 2022 – 2,710 of them in men – and nearly 44,000 women and men will lose their lives due to this disease. sickness.
So the fight continues.
Our main sponsors this year are AmeriServ Financial, Indiana Regional Medical Center, UPMC, Chan Soon-Shiong Medical Center in Windber, Conemaugh Health System, the 1889 Foundation, the 1889 Jefferson Center for Population Health, McAneny Brothers, Community Foundation for the Alleghenies, Cambria County Association for the Blind and Handicapped, Kongsberg Defence, 1st Summit Bank and CamTran.
Many other businesses and organizations have also supported the campaign, and you'll see their ads in today's section, in our October 13 'pink' edition and throughout the month.
We couldn't do this without them. Their financial support allows us to dedicate space and resources to the important subject of breast cancer awareness.
But the most important player in all of this is you.
We need you to get screened for breast cancer, or to urge others around you to get screened.
"Breast cancer is the most common cancer in women," said Joyce Murtha Center breast specialist Dr. Deborah Sims, "and it really is true that early detection saves lives."
One more woman.
That's the goal – this month, and always.