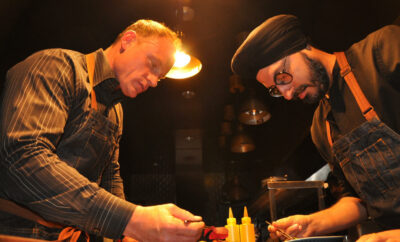 THE WOODLANDS, TX – In an effort to join forces to raise awareness and funds for a Make-A-Wish foundation, Chef Jassi Bindra with Amrina and Chef Austin Simmons with TRIS will collaborate for a 16-course dinner and a drink deal on Tuesday, August 30, in Amrina titled "What The Chef."
The evening will serve as a charity introduction to Amrina's impressive Chef's Table, which will open for reservations immediately afterwards for dinner on Tuesdays and Wednesdays. Each course will alternate between Chef Jassi and Chef Austin, while drink pairings will be hosted by Amrina Sommelier Giorgio Ferrero and Tris Sommelier LeVar Williams.
Generous foodies have the opportunity to bid on this experience through Event.Gives, an online auction site. Bidding starts at $6,000, and TRIS and Amrina will donate a portion of the winning bid to Make-A-Wish.
Advertising
Chef Jassi Bindra is the creative mind behind The Woodlands' luxurious Indian restaurant, Amrina. Chef Jassi's accolades include earning a Michelin plate and a Michelin Guide mention in 2019 while running the kitchen at the Punjab Grill in Washington, DC, his residence before moving to Texas. Amrina's extensive menu offers Indian-inspired dishes with a creative twist and a variety of dishes and flavors from continents around the world.
A graduate of Le Cordon Bleu College of Culinary Arts, Texas-born and raised Chef Austin has impressed guests from around the world. He sources ingredients from around the world and combines them with unrivaled technique and vision in his TRIS concept. Offering an exemplary dining experience, Chef Simmons' menu combines flavors from around the world from his extensive travels with classic culinary techniques.
Amrina, an eclectic social and dining experience, is the first concept designed by Kahani Social Group. Located at 3 Waterway Square Place, Suite 100, the restaurant offers an inspired menu, cocktails that guests not only sip but witness, and an atmosphere that serves as a pleasure in its own right. With private dining options, a tantalizing lounge bar, an intimate main dining room, and a chef's table in the kitchen, Amrina ensures that every visit will delight guests in a new way. www.amrina.social.
Advertising
TRIS is a contemporary, white-tablecloth venue that offers an exceptional dining experience in The Woodlands. Executive chef Austin Simmons sources ingredients from around the world to deliver one-of-a-kind dishes at The Woodlands, whether guests dine for lunch, happy hour, dinner or discovering his acclaimed CollaborEight series. www.triswoodlands.com/menu.
Make-A-Wish Texas Gulf Coast and Louisiana is one of 59 chapters across the United States and its territories. Since our inception in 1984, we have granted nearly 10,000 wishes from local children, and in fiscal year 2021, we have granted more than 400 wishes. By 2025, we will double the number of wishes granted annually. We seek to fulfill the wish of every eligible child, as a wish is an integral part of a child's treatment journey. Research shows that children whose wishes are granted gain the physical and emotional strength they need to fight off a serious illness. This improves their quality of life and produces better health outcomes. A wish transforms the lives of children, their families, volunteers, supporters, health professionals and entire communities. Make-A-Wish is the world's leading children's wish-granting organization, serving children in every community in the United States and 50 countries around the world. Since 1980, nearly 500,000 wishes have been granted for children in the United States and its territories. To get involved, visit www.wish.org/texgulf.
Advertising