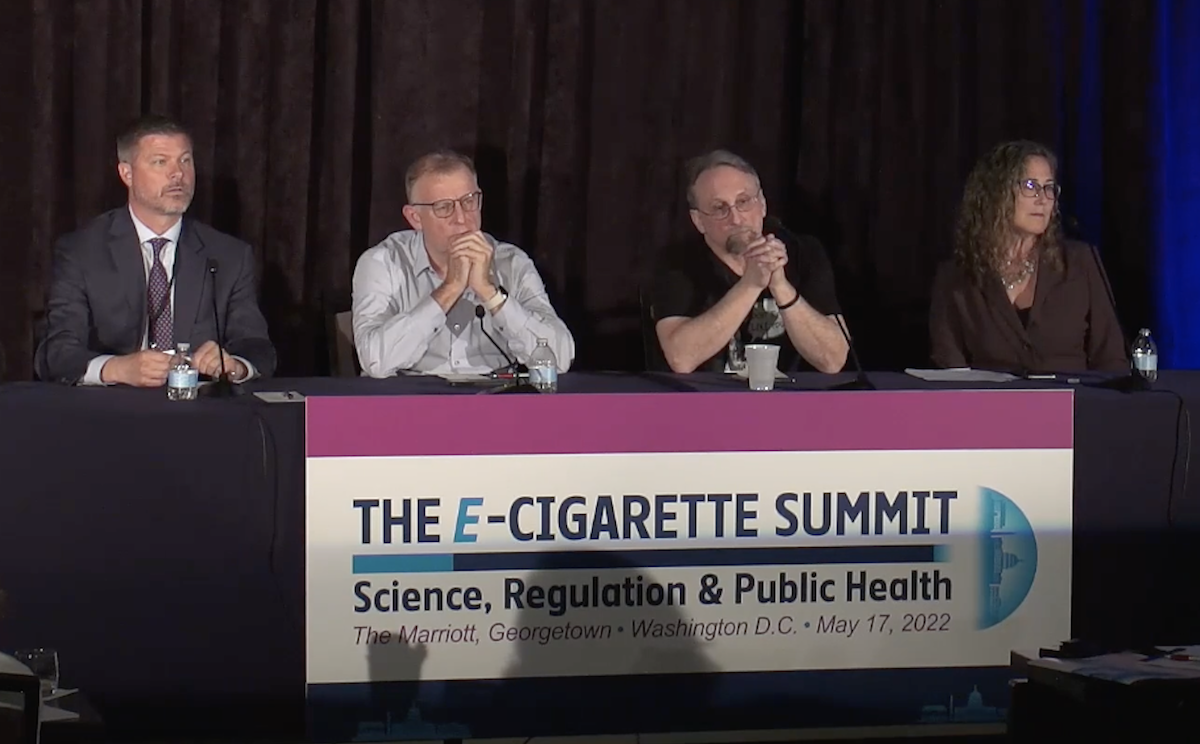 Jhe annual e-cigarette summit in Washington, DC, is perhaps the most eclectic conference on tobacco control. Consumer advocates, vape shop owners, academics, researchers, regulators and industry leaders all came together on May 17, as they have for several years.
Perhaps more than anything, the conference is a rare opportunity to publicly ask questions of the upper echelons of the Food and Drug Administration (FDA), an agency little known for its transparency. So it didn't take long for attendees to get up during the Q&A sessions and ask Matthew Holman, director of the FDA's Center for Tobacco Products (CTP) Office of Science, and Kathleen Crosby, director of the PTC Health Communications Office. and Education, why the FDA has continued to communicate the "risk continuum" so poorly – the idea that some nicotine products are significantly safer than others.
This became the theme of much of the afternoon: now that the FDA was finally clearing certain vapor products through its often criticized and expensive, why was the public still so massively misinformed about e-cigarettes?
Two of the most prominent speakers – David Ashley, former director of the Office of Science at CTP, and Vaughan Rees, director of Harvard's Center for Tobacco Control – both agreed that vaping has a place in eliminating combustible smoking.
"What's the ethics of doing this – deceiving people to get behavior change?"
Mark Slis, a Owner of a vape shop in Michigan, gave a fiery speech about how FDA bureaucracy was driving adults back to cigarettes. Robin Mermelstein, a distinguished psychology professor at the University of Illinois at Chicago, applauded past tobacco control efforts but urged more nuance in communicating the relative risks between nicotine products.
Dr. Jasjit Ahluwalia, a physician and public health scientist at Brown University, referred to a recent study that suggested 60% of physicians in the United States believe that nicotine causes cancer and have argued that the FDA is not only failing to combat misinformation, but may even be contributing to it. Since so many public messages about vaping now revolve around mental health, he pointed out – referencing Crosby's earlier presentation on the FDA's link between nicotine withdrawal and anxiety and short-term depression in its prevention campaigns for young people – people could easily start to believe that nicotine is the direct cause of these conditions.
Crosby responded that his department is careful to link short-term anxiety and depression to nicotine withdrawal, not nicotine itself. Still, Ahluwalia urged better messaging, even comparing FDA communications with those of the banned nonprofit Truth Initiative. The truth has blanketed the internet and empty storefronts with fake advertisements for a "Depression Stick", a satirical vaping product whose name claims to be honest with the user.
Clive Bates, former director of the UK's Action on Smoking and Health, asked panelists if many tobacco control actors simply have it upside down – isn't nicotine a cause? anxiety and depression, but a treatment?
"Is it ever right to exaggerate the risks to get the behavior change you want?" Bates continued, to applause from the audience. "Is it okay to imply, by omission or by commission, that vaping is as harmful as smoking just because you want to deter young people from using these products? What's the ethics of doing this – tricking people into behavior change? His question was answered not by FDA officials, but by Dr. Kevin Gray, a professor of psychiatry and behavioral sciences at the Medical University of South Carolina, who said nicotine was not a good way to modulate these unpleasant sensations.
"Despite what people like you think, we do our best to communicate this stuff."
In a space meant to open up constructive dialogue, the frustration of the audience – and the panelists – was generally palpable. Slis, the owner of the vape show, lambasted the PMTA process while sharing a scene with Holman, who repeatedly veered off course, implying there was only so much under his control and the one from the FDA.
"Go down the hill here to the Capitol, because they wrote the law," Holman said. "We have expertise in the product[s] that Congress has given us jurisdiction over, [and] we just got jurisdiction over synthetic nicotine. We didn't choose that. Congress wrote a law, and now we are responsible for implementing it.
Sitting next to Holman on the panel, Bates conceded the point to some degree, but suggested that the FDA has a lot more room to interpret its implementation of the laws — and conduct its communications — than it does. way that promotes harm reduction.
"There are a lot of restrictions on what we can say, how we can say it, the process we have to go through to say it publicly that are really difficult," Holman said. "And despite what people like you think, we do our best to communicate that stuff."
"No," Bates deadpanned. "I think you are doing your best."
---
Screenshot of the E-Cigarette Summit stream showing, from left, Matthew Holman, Clive Bates, Mark Slis and Professor Kathleen Hoke, JD