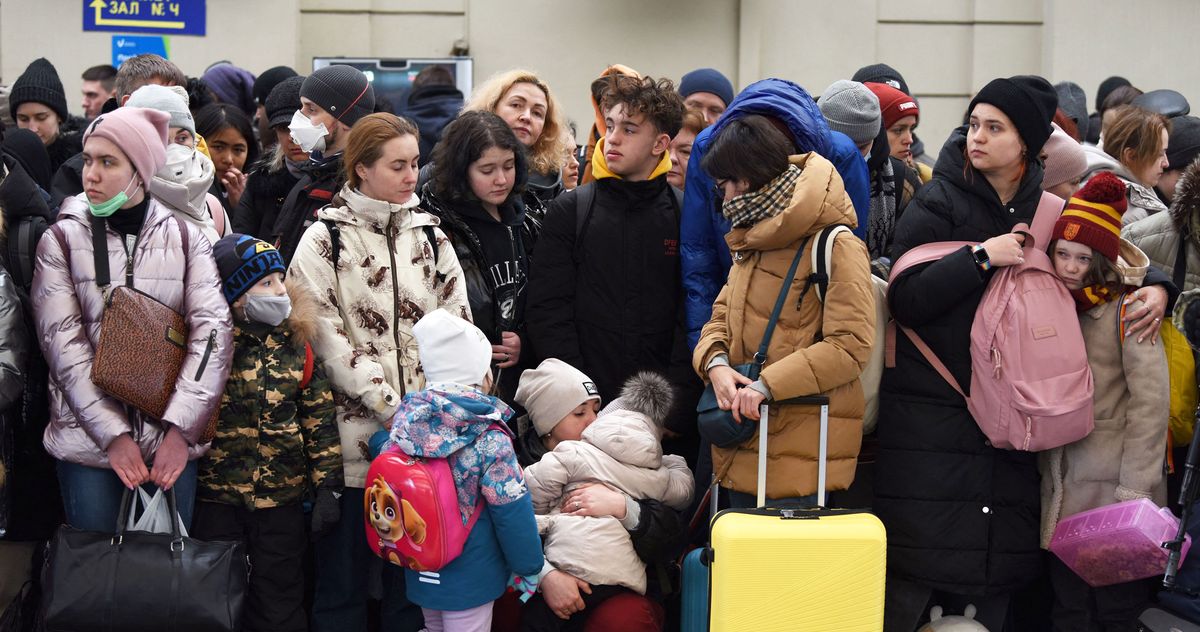 People with bags and suitcases in the kyiv metro after the air raid sirens went off.
Photo: YURIY DYACHYSHYN/AFP via Getty Images
In the weeks since Russian President Vladimir Putin declared war on Ukraine, circumstances on the ground have become increasingly dire. Destruction and air raid sirens have become part of daily life in much of the country. Many Ukrainians use metro stations as bomb shelters and civilians rush to evacuate to other countries. More than 3.6 million Ukrainian refugees have already fled, with many kilometers to travel to reach neighboring borders. Meanwhile, black and brown people trying to flee Ukraine are finding it even harder to get out, due to racism and violence that have left them stranded and even turned away at borders, while transphobia and other discriminatory practices prevent transgender Ukrainians from leaving. Refugees are grappling with food shortages, as are many Ukrainians who remain in and around Kyiv, where food deliveries have become impossible due to security fences.
The war – which has a lot to do with Putin's colonial desire to restore a Soviet empire and his general dislike of Ukrainian democracy – is a conflict that even Russian citizens don't seem to want. The invasion triggered international sanctions and condemnations, with Ukrainian President Volodymyr Zelenskyy and other world leaders accusing Putin of committing war crimes. On the ground, Ukrainian civilians take up arms and many citizens living abroad return to fight. However, the outcome remains uncertain. Experts believe that Putin's aggression will not stop until he installs a new ruler in Ukraine subject to Russia. Already more than a thousand Ukrainian soldiers and at least 902 civilians (and probably many more) have been killed in the conflict, including children.
Here are a few ways to help Ukrainian citizens, including recommendations from journalists on the ground in Ukraine:
Razom for Ukraine: Razom, which means "together" in Ukrainian, is a voluntary charity organization that was founded in 2014 to support Ukrainians after the annexation of Crimea by Russia.
Sunflower of Peace Fundraiser: Sunflower of Peace's fundraiser aims to provide first aid backpacks to paramedics and doctors on the front lines. Each backpack contains enough tactical first aid supplies for five to ten people.
Revived Soldiers Ukraine: This non-profit organization provides medical aid to Ukrainian soldiers and supports their families.
Medical Teams International: This humanitarian aid agency is deploying a team to Ukraine and working with partners to deliver essential medical supplies to people on the ground.
Heart to Heart International: This global humanitarian organization is donating $20 million worth of medical supplies to Ukrainian refugees in Warsaw, Poland, as well as hygiene kits.
MedShare: This organization donates excess medical supplies to global communities in need of disaster relief. Donate to his Ukrainian fund here.
Direct Relief: This organization has partnered with the Ukrainian Ministry of Health to provide emergency medical aid to citizens still in the country, as well as recent refugees.
Voices of Children: This organization helps provide psychological and psychosocial support to Ukrainian children affected by armed conflict.
Save the Children: UK-based Save the Children has set up a crisis relief fund in Ukraine which provides food, water, hygiene kits, cash and psychosocial support to children and families.
ChildFund International: Founded in 1983, ChildFund provides international financial support to children in need. Donate to his German organization, ChildFund Deutschland, which provides emergency aid kits to children and families in Ukraine.
MANNA Worldwide: This US-based non-profit organization supports the development of children in poor communities nationally and internationally. Its fund for Ukraine supports Ukrainian families trying to flee to safety.
International Rescue Committee: The IRC is on the ground in Poland, helping children and families who have fled Ukraine.
SOS Children's Villages: This international non-profit organization has been working in Ukraine since 2003 and is currently fundraising for internally displaced children and their families.
The Kyiv Independent: You can support Ukrainian English-language media through GoFundMe or through Patreon.
Free Press Unlimited: This Netherlands-based organization works to protect journalists around the world. Donate to their "Media Lifeline for Ukraine" here.
Keeping Ukrainian media in business: Donations to this GoFundMe will help Ukrainian media move to other countries and set up offices there.
Global Empowerment Mission: In collaboration with BStrong, this organization runs a reception center on the Polish-Ukrainian border. It uses its funds to facilitate the influx of refugees into Poland, paying for flights and trains to relocate anyone who cannot find accommodation in Poland.
Humanity and Inclusion: This global organization supports people and refugees from conflict-affected areas, especially those with physical injuries and disabilities and the elderly. Its Ukraine Appeal Fund will help provide emergency assistance to refugees displaced by the conflict.
Team Rubicon: This NGO specializes in disaster response and has sent a team of doctors to Poland to help refugees, especially children, women, people with disabilities and LGBTQIA+ people. Donate here to support his efforts.
CORE: Community Organized Relief Effort provides immediate relief and recovery to underserved international communities. Donate to his relief effort for Ukrainian refugees in Poland. The money will go towards cash disbursements, hygiene supplies and COVID-19 testing.
Hungarian Helsinki Committee: This human rights organization provides free legal assistance to Ukrainian asylum seekers.
Association for Legal Intervention: Since 2005, this Poland-based NGO has provided migrants and refugees with pro bono legal aid. Donate to their Ukrainian fund to support refugees seeking legal assistance.
The Coalition to Support Blacks in Ukraine: This fundraiser aims to help black people facing racism and turned away as they attempt to flee the country. The funds will go towards paying resettlement costs and connecting Black refugees with their families, as well as food and other practical supplies.
Black Women for Black Lives: Through its #BlackinUkraine initiative, this organization raises funds to help black refugees leave Ukraine, especially students.
Fundacja Ocalenie: This immigrant-focused organization raises funds for African and Indian students fleeing Ukraine.
OutRight International: The non-governmental organization addresses human rights abuses against the LGBTIQ community. You can donate to his fundraiser in Ukraine here.
QUA: QUA-LGBTQ is an organization connecting LGBTQ Ukrainians with LGBTQ allies in the United States. Your donations will be used to urgently support the Ukrainian LGBTQ community in conflict-affected areas.
Urgent Action Fund for Women's Human Rights: Donations to this organization's Ukraine Response Fund will support female, trans and non-binary activists in Ukraine and neighboring countries.
• Donate to Nova Ukraine's Heart2Heart initiative, which collects health kits for Ukrainians.
• Donate to the International Committee of the Red Cross, which will provide humanitarian aid to Ukrainians affected by the conflict.
• Donate to CARE's Ukraine Crisis Fund, which aims to provide food, water, hygiene kits and more to Ukrainians, especially women and girls.
• Donate to International Medical Corps, which will deploy mobile medical teams to provide primary and emergency health services, including psychosocial services, to conflict-affected Ukrainian communities.
• Donate to GlobalGiving's Ukraine Crisis Relief Fund, which channels funds for humanitarian assistance in Ukraine, including shelter, food and clean water for refugees.
• Donate to Mercy Corps, a global humanitarian group whose Humanitarian Response Fund sends money and emergency supplies to people across Ukraine.
• Donate to People in Need, a Czech group that responds to an emergency helpline by sending trucks loaded with non-perishable food, hygiene products, sleeping bags and other items to n any place that asks for help. PIN is also setting up border sites to help refugees cross safely.
• Donate to Americares, which deployed an emergency response team to Poland with medical support for Ukrainian refugees.
• Donate to World Central Kitchen, which works to serve fresh meals to Ukrainian refugees, as well as Ukrainians left behind.
• Donate to the International Fund for Animal Welfare (IFAW), which raises money to help shelter staff and animals in disaster areas.
• Donate to the Kyiv School of Economics, which raises funds to provide first aid kits, body armor and helmets to Ukrainians in the field.
• Donate to the United for Ukraine Fund of United Way Worldwide, which will be used to provide shelter, food, transportation and infant formula to those in conflict zones.
• Donate to Vostok-SOS to support victims of military attacks.
• Donate to Liberico fundraising in Ukraine to support emergency aid to those in areas of immediate danger.
• Donate to Fight for Right, which supports Ukrainians with disabilities who are on the ground or trying to evacuate.
• Donate to Malteser International, which works to provide food, water and medicine to Ukrainians facing supply shortages.
• Donate to the Ukrainian Women's Fund to help provide basic necessities to war-affected women and girls.
• Donate to Lutheran World Relief to help provide emergency supplies to clinics and civilians on the ground.
This post has been updated.