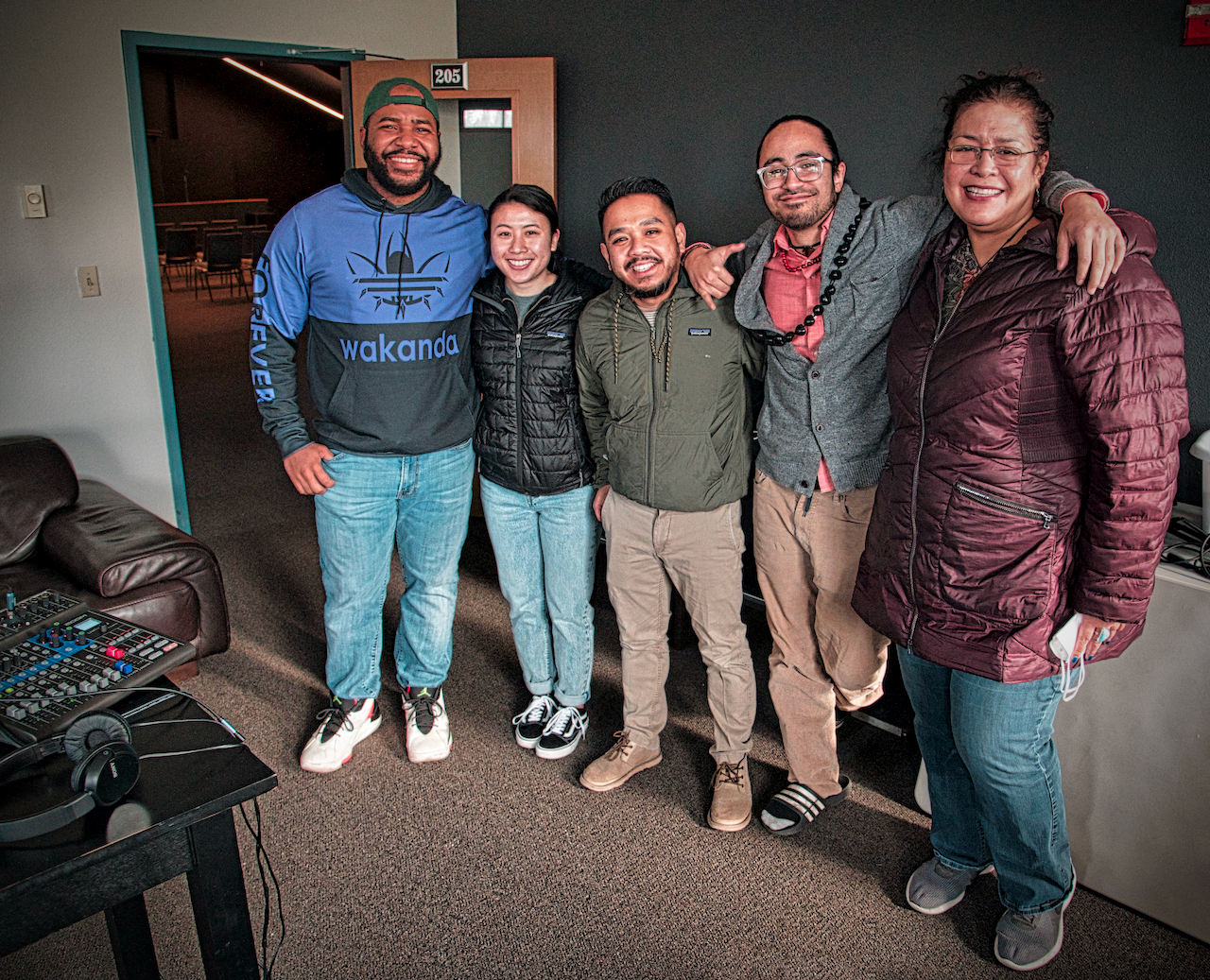 The crew that makes it happen. The Inside White Center podcast production team consists of Frank Johnson, Lisa Nguyen, Kimnang Seng, Christian Tautua and Pat Thompson.
Photo by Patrick Robinson
Telling the story of a community sometimes means listening to many voices. As media has evolved, the voices of communities like White Center can get lost in the flood of information found online. To counter this and give White Center residents a place to listen and be heard, a group of local residents chose to start a podcast. That was back in 2016 and since then the field of podcasting, which is kind of a radio show but can be streamed and listened to when it suits you, has grown exponentially.
The show's producing team consists of hosts Frank Johnson and Lisa Nguyen, with production by Kimnang Seng, and Christian Tautua and executive production by Pat Thompson.
The show gave the floor to Janice Young, from Young's restaurant (which was recently actually sold) and how her family made it a neighborhood landmark, how they weathered the pandemic and more.
They spoke with hip hop artist Gendal Tautua, whose experience growing up at White Center as a person of Samoan descent shaped his music. Local storyteller Cham Ba, who is a music video director, also had the opportunity to talk about his upbringing and how it influenced his work.
You can hear the show on all podcast platforms under Inside the white center or go to https://insidewc.podbean.com
To guide their monthly program (which is now registered at Community Roots Church but will move to White Center HUB Community Center once it's finished in three years), they have a mission statement.
"Using the power of technology and the reach of media, the Inside White Center podcast aims to tell the authentic stories of the White Center from the perspective of the people who live and work there. Our goal is to celebrate the successes of the community and its people, inspire hope in people by learning about the great work that is happening in and around the White Center, and empower people with information so they can be part of the continued advancement of our community.
The most recent edition of the podcast features WestsideSeattle.com editor Patrick Robinson talking about the White Center, journalism, his photography and more.