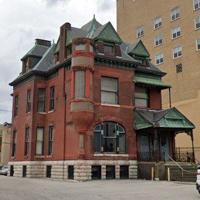 Clearly eligible as a unique site for listing on the National Register of Historic Places, the house was not included in the Midtown National Register Historic District boundary, drafted by neophyte staff of the Landmarks Association in 1978. This thematic nomination, of which I was one of the authors, drew boundaries to incorporate large institutions, centered mainly on Grand Avenue and Lindell Boulevard. Perhaps plans to move the house could happen ("House faces wrecking ball for Powell expansion. St. Louis developer offers plenty to save it." March 29).
Since 1978, dozens of buildings in this historic district have received federal and state historic tax credits. Meanwhile, the old Culver House has been adapted by Robert Powell into the Portfolio Gallery, featuring works by artists of color. But the art on the walls has been greatly enhanced by a singularly intact interior with ornate flooring, now rare tiles, elaborate woodwork and quirky finishes. The Queen Anne's exterior also features an elaborate catalog of historic building materials. Rescue is not the answer. The Symphony must review its expansion plans. A cultural institution, whatever its size, should not knowingly destroy another.
Caroline HewesToft • Saint Louis
Get weekly opinion pieces, letters and editorials straight to your inbox!