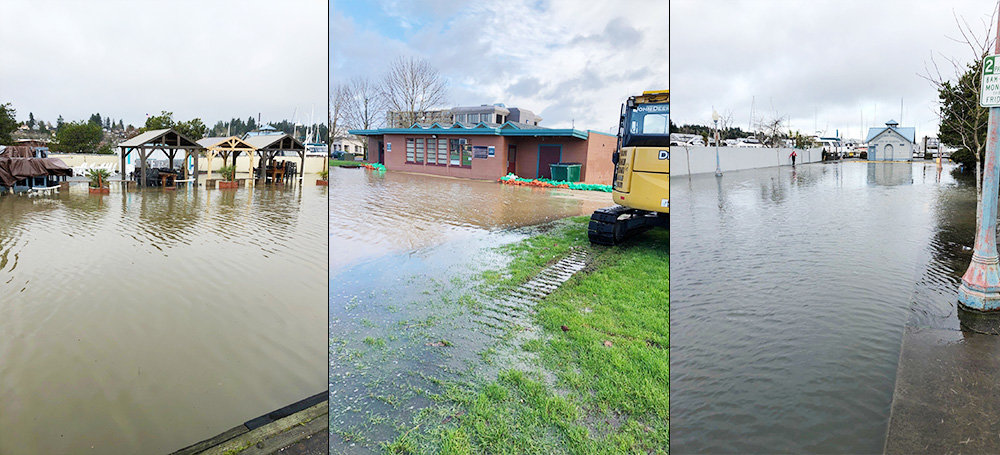 Rich Hoey | Acting Deputy City Manager of Olympia
Olympia is lucky to be in such a beautiful place. Nestled on the southern tip of Budd Inlet in Puget Sound, the Olympians have long enjoyed a rich maritime history and a deep connection to water. The tidal variations we experience at our location in Puget Sound are significant and especially dramatic during the "King Tides" each year. They regularly remind us of the real vulnerability we face in the face of rising sea levels.
This was certainly the case in January of this year. On January 7, 2022, a tide of 17.9 feet in Budd Inlet collided with strong runoff in the Deschutes River and caused extensive flooding in Heritage Park. Due to low barometric pressure, the tide came in 1.5 feet above the predicted tide of 16.4 feet. Crews from Olympia Public Works and the State Department of Enterprise Services were prepared and worked hard to hold water in the park and prevent further flooding. In my 17 years in the city, this was the highest level of water I've seen in our downtown and a real glimpse into our future.
As floodwaters from Capitol Lake rose through the park, the tide continued to rise in Budd Inlet and began licking the bottom of the wooden planks of the Percival Landing boardwalk. It was an impressive and intimidating site to see. Just then, the tide thankfully began to turn. If the tide had risen a few more inches, our street operations staff at Public Works were ready to close 4e Avenue and Water Street. This confirmed what we already knew – that Heritage Park and Percival Landing (especially the older sections) are the areas most vulnerable to flooding downtown. To give you some perspective, the oldest sections of Percival Landing are built at a tidal elevation of 18 feet (or about 10 feet above mean sea level). A 17.9ft tide like the one we experienced in January was right there.
All of this means that sea level rise is not a distant threat to Olympia. It is a reality that we are dealing with today and will continue to deal with for decades (if not centuries) to come. If you've traveled Water Street behind Olympia Supply during the winter months, you've no doubt seen a large portable pump in one of the parking spots. You may not know what it is. When the lake level is high due to high flow of rivers and tides, we use it to forcibly pump rain that falls downtown into Lake Capitol. Without this pump, stormwater would back up the streets and flood adjacent low-rise properties.
In this and other downtown areas, when water levels in Capitol Lake or Budd Inlet rise above street level, tidal gates (flap-type gates) are also required to prevent water from the lake or the sea from coming up storm drains and onto low lying streets. As sea level rise continues, more pumps and sluices will be needed at all downtown stormwater outfalls. This is something we are already working on. Over the past three years we have installed 22 locks and we are installing a new lock on our main outfall at Fiddlehead this summer.
We have known about the risks we face in Olympia for many years. Because our downtown is largely built on fill north of 4e Avenue, we knew it would be a big challenge. In fact, the first study of sea level rise in Olympia dates back to the early 1990s. This early and proactive look helped us prepare for the sea level rise that has already happened. and what is yet to come.
And there's a lot at stake. It's essential that we protect our downtown – the social, cultural, historical and economic core of the city and region. With this goal in mind, in March 2019, the City of Olympia, the Port of Olympia and the LOTT Clean Water Alliance adopted a joint plan to combat sea level rise. intervention against the sea level rise of Olympia was the culmination of years of work and defined a strategy to protect the city center of Olympia until the year 2100. It is the plan to more long term that the city has ever developed.
The plan showed that over the next 80 years, protecting our downtown was feasible and the most economical choice for the City. Using the best available science, the plan took a conservative approach in planning for sea level rise. It assumed up to 24 inches of rise over the next 30 years and up to 68 inches by 2100, then outlined a strategy to adapt to these higher sea levels. The costs of implementing the plan will be high ($190M to $350M in 2018 dollars), but relatively low compared to the cost of relocating existing investments downtown, both public and private. For example, the cost of relocating LOTT's Budd Inlet sewage treatment plant alone would exceed $1.3 billion in 2014 dollars. Protecting downtown is a wise and necessary investment.
The Sea Level Rise Response Plan calls for a progression of actions we will need to take over the coming decades. Some are small (which we have done or are doing) and some are very large. We have already raised minimum floor elevations for new construction downtown and have been actively installing locks as I mentioned. Other things we are working on include installing a tide gauge in the lower Budd Inlet to better monitor and predict the tides locally, as well as improving our emergency response capability.
Looking ahead, we plan to further investigate our land subsidence (yes – to make matters worse, downtown Olympia is sinking – very slightly and slowly, but still sinking). Any subsidence only adds to the challenge. We also need to study our groundwater and soils downtown to find out how water will move under the ground as the tides rise. This will help us design barriers to retain flood waters. And looking further afield, we finally have plans to raise the downtown banks and even build a pumphouse for Moxlie Creek. It's all outlined in our Sea Level Rise Response Plan – a great read. The City's website also has three story maps (links below) that outline the risks we face and our coping strategies:
I have not yet explained why all this is happening. If you are reading this article, I guess you already know that. Quite simply, the carbon emissions from our use of fossil fuels are warming the planet – in a big way. According to the Intergovernmental Panel on Climate Change (IPCC), sea levels have already risen more than 6 inches since 1902, and the rate of rise is increasing. Sea levels are rising due to a combination of the melting of the land's polar ice caps and the thermo-expansion of the oceans as they warm. By the end of the century, the IPCC now predicts sea level rise of 33.1 inches. Since we are close to the margin today in Olympia, it is a real problem for us.
This creates a real sense of urgency not only to reduce emissions (more on that later), but to ensure that we implement the sea level rise response plan. To advance this work, the City of Olympia, Port of Olympia and LOTT Clean Water Alliance have formed the Olympia Sea Level Rise Response Collaborative. The collaboration takes action for adaptation to sea level rise and supports regional climate change mitigation efforts, with the ultimate goal of improving the quality of life for all Thurston County residents. The agencies partner with the support and commitment of the state, Thurston County and the Squaxin Island Tribe. Dani Madrone, Olympia Board Member and Collaborative Chair, recently said, "Sea level rise in downtown Olympia is impacting the entire community. Not only is the city center a cultural center for the region, but it is also a major corridor that connects the east and west of Olympia. I am proud of the partnerships that have been cultivated over years of careful study and planning.
Good news for us in Olympia is that most of the downtown coastline is owned by the city, the Port of Olympia, and Washington State. While this has always been great for recreation and public access, having property under public control also helps us plan and adapt the coastline to rising sea levels.
More good news is that after years of study and analysis, the Department of Business Services has identified the estuary alternative as the likely preferred alternative in the Capitol Lake-Deschutes EIA process. Estuary. Based on the draft Environmental Impact Statement or EIA (page 4-106), "During extreme river floods (with 2 feet [0.61 meters] relative sea level rise), the estuary alternative would reduce the extent and intensity of flooding compared to the no-intervention and managed lake alternatives. Significantly less flooding is expected at Heritage Park, downtown Olympia and the Interpretation Center.
Yet another thing for us at Olympia is that we have a very knowledgeable and engaged community. A good example is local resident Bill Lange (LTA Productions). Bill led the creation of an award-winning documentary series on sea level rise. If you haven't seen it, I highly recommend it. He tells the story much better than me.
In conclusion, I want to emphasize that while I've spent the majority of this blog writing about adapting to sea level rise and protecting the downtown core, it's also critical that we drastically reduce our carbon emissions. We are past the point of avoiding sea level rise, but locally and globally we can mitigate this and other potentially catastrophic effects of climate change by reducing and ultimately eliminating our greenhouse gas emissions. . I encourage you to review Thurston's Climate Mitigation Plan to learn how you can help.
Editor's note: This article is a blog from the city of Olympia.