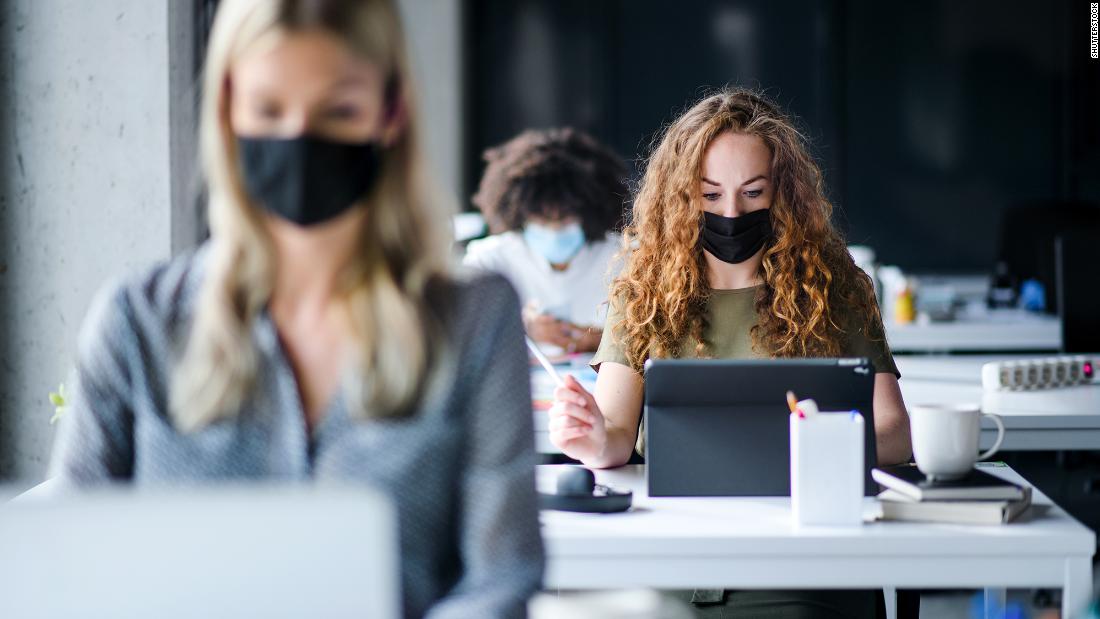 [ad_1]
They have demanding and unpredictable jobs and little protection in the workplace. Leaving is an abandonment and the position is unpaid. These workers too often neglected are the 45 million American mothers. And last year has shown that the time has come to organize.
If there was any doubt that moms – both those who take paid work and those who don't – need a union, the Covid-19 pandemic and its effects have revealed what mothers face despite the differences in our various circumstances. Studies show that more than 2 million women "left" the labor market last year. In fact, many of these women – and mothers in particular – were strength to leave: because they were made redundant; because they needed to educate their children about school closures; because they had insufficient economic support at best, from government or their workplaces, to cover childcare costs; or because they were tired of coming home from work, only to take on a second unpaid care team at home.
Granted, the pandemic wasn't a walk in the park for fathers either – but research shows that mothers, regardless of their employment status, carried most of the burden of raising their children, housework and the subsistence of their families.
This is not the first time that the crisis has clarified the common goal of workers. In fact, the most significant victories of many unions are the result of tragedy. The Triangle Shirtwaist Fire has led thousands of sweatshop workers – many of them immigrant women – to successfully lobby for safer factories. The mistreatment of Filipino American grape pickers prompted union leaders (including Dolores Huerta, who happens to be a mother of 11) to seek better pay, safer conditions and health insurance for their colleagues. And just a few years ago, tens of thousands of overworked and underpaid teachers managed to strike in states across the country.
This current crisis – in which moms have been crushed by the pandemic and its aptly named "she-demise" – is our inflection point. And it underscored the urgency and universality of mothers' demands: a government that delivers on its oft-touted commitment to supporting families, as well as truly equitable workplaces and homes.
At work, moms want to be able to decide how, when and where we work. New office policies – from remote work options to compressed work weeks – are a start. But we also need complementary cultural changes: environments in which we are empowered to set our own schedules and our colleagues are required to respect them; where bosses value production over time in the office so as not to favor those (read, often: these men) who enter the office; where men take advantage of parental leave policies to share the responsibility of care.
And moms want homes where the burden of our invisible, unpaid labor is shared and valued, including economically. Just as America's 14 million union members came together to advocate for higher wages, mothers in our country must also unite to demand compensation for our babysitting work, which was worth $ 1.5 trillion nothing. than in 2019.
Some groups unionize because they've exhausted all other options, and moms certainly do today. Despite our common understanding of what is wrong and our common solutions to fix it, the company has largely ignored our demands. Protections at work are still reserved for the most privileged among us.
But many others are proactively organizing because they understand the benefits of banding together. In 2019, the United Federation of Teachers of New York City negotiated paid parental leave for educators in the city's public schools. Last July, a local union of United Food and Commercial Workers in Los Angeles negotiated an emergency deal allowing members to take time off while retaining their health benefits.
And while you might not think mothers can strike, they have – and with great success. On October 24, 1975, 90% of Icelandic women – many of whom are mothers – refused to work or take care of their families and homes to protest the pay gap, prompting the Icelandic parliament to guarantee equal pay. Today Iceland is considered one of the most equal countries in the world.
We got a glimpse of what could happen if American moms, too, harness the power of our numbers. Think of Moms Demand Action, which changed the conversation and the law on gun violence; Mothers Against Drunk Driving, which has helped drastically reduce the number of impaired driving fatalities in the United States; millions of moms who helped decide the 2020 elections in support of those who support us.
Moms need to be clear about this call to action: like teachers, drivers and service workers who are the backbone of our country's economy and society, we can also be told that "we have chosen this role "- and therefore have no right to complain. It's an argument that ignores both the value we create and the conditions under which we are supposed to create it – conditions that are too often unfair, unhealthy and unsustainable for us and our families.
So on this Labor Day – with a new school year and a new season of uncertainty for families – let's borrow a page from the union handbook. Let's harness the courage and optimism we put into caring for others to create better conditions for ourselves. Let's galvanize, strategize and organize together to turn this moment of crisis into an opportunity to rebuild our society with equity. And let's be ready to put it all on the line, so the next generation doesn't have to. After all, that's motherhood.
[ad_2]